My sister sang the Father Daughter song at our wedding.
Now she is getting married.
It's my turn to sing at hers.
I've been listening to the song and the problem is that I can hardly get through it. I had heard it once before at another wedding, a wedding where I was particularly fond of the bride and groom. I had just had the Little Man. He was there with us. I almost didn't show up due to the difficult task of dressing up a body that has just brought another body into this world.
Sitting at the table with dear friends, my dear fly, and my dear little one, we watched as this beautiful young woman embraced her daddy. They began to dance and as the words poured out of the speakers the tears poured out of my postpartum, emotion-drenched heart. I was a wreck. Thinking about my sweet little girl, just two then, and this sweet baby boy, and that someday they were both not going to be small enough for me to carry down the stairs.
When my sister was trying to find the perfect song I took a deep breath and suggested this one.
[audio http://shesingsalong.files.wordpress.com/2013/06/08-never-grow-up-1.mp3]
Never Grow up by Taylor Swift
Sitting around the same table we did countless hours of homework, eating, arguing and laughing, me, mom and Sistair, that's what I call her, cried together. The words fit and it was right.
In the midst of everyday life, wedding planning and child raising this song has been in my head and my heart. It found it's way into my mind once again as I took the kids to the library today. They needed to get out of the house and so did I. We picked out books and played. We got smoothies and lunch and played at the park. It all seemed so familiar and then I remembered this:
Sometimes I get tired of hearing how fast it goes. It seems to be the one thing that everyone says to a young mom, stranger or friend. It's as if they can't help themselves. And, there are days where I want to scream back at them,
"I know!!! You've told me this before! But, I just locked myself in the bathroom and cried for five minutes while the two littles were screaming at me from the other side of the door...I'm just not sure how much more of this I can take!!!!"
But instead, I smile and say, "I know," and I do my best to hold on to those words for what they are, an encouraging warning. Because behind every, "It goes so fast," is a mom or a dad who spent their own time on the other side of a bathroom door and experienced all the same things that I find myself drowning in some days. The truth is that what they are really saying is,
"It doesn't get easier. It just changes. And, right now they are small and innocent. Their voices squeak and their bellies are round. They don't know what it feels like to be emotionally hurt or scarred. Their little hearts are not yet broken but full of hope and eager anticipation. They greet with smiles and you are still their hero. It goes so fast. Don't let yourself drown in it. Drink it in because you can't go back."
So today I am praying for the ability to drink rather than drown. I am praying for the patience I need to savor moments instead of sour them. And I am praying for the ability to give myself grace as they grow.
And when I find myself on the other side of the bathroom door again, I am praying for the courage to start thanking God for the little ones and the little things so my insides will go from grated to grateful.
I will start now...
Thankful for....
#85 - a husband that gets up with the boy who doesn't sleep at 5:15 so this mama can sleep a little bit more
#86 - my Keurig that makes my cup of coffee so fast
#87 - the songs that The Bug sings...she sings about her day more than she talks about it already, becoming minstrel of her own making
#88 - an early morning nap for the Little Man that changes all our plans for the day but creates space for this mommy to search her heart as she rocks him in the big blue chair
I started this list at the beginning of the year. I keep forgetting about it until my heart aches to remember the power of thanksgiving...
It wasn't my idea. It was Ann Voskamp's. You should read her book or check out the community of people giving thanks as well.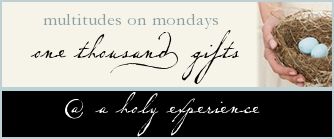 (I realize it's four days past Monday...but that's what happens around here.)